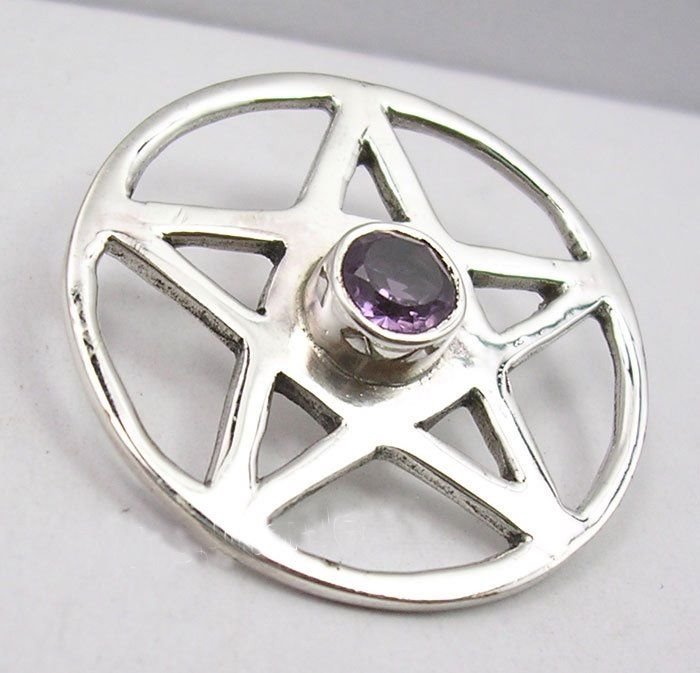 $22.00
$0.00
Amethyst Star/Pentagram 925 Sterling Silver Pendant
Beautifully handcrafted pentagram pendant in solid 925 sterling silver with a genuine amethyst gemstone cabochon set in the centre of the pentagram.
Amethyst is a powerhouse stone. It vibrates at a high frequency, creating a bubble of spiritual protection against negative energy.
It awakens higher consciousness, assists in wise decision-making free of emotional confusion, and facilitates meditation and intuition.
This piece has been stamped 925 on the back of the pendant.
Metal: Genuine 925 Sterling Silver - (not plated)
Gemstones: Amethyst
Gemstone Size: 5 x 5 mm Round Faceted Gemstone
Pendant Length: 26 mm Including Bail (1")
Pendant Width: 26 mm (1")
Weight: 3.7 g
All carat weights and measurements are approximate and may vary slightly from the listed dimensions
Please be aware that the colour, shape & size may differ very slightly from the actual photo shown here.
Colours also may vary slightly due to the colour calibration of each individual monitor.