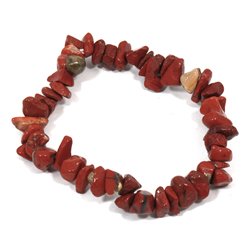 $7.00
$0.00
Red Jasper Gemstone Chip Bracelet
Red Jasper is known as a stone of endurance, a gentle but vital stimulator of chi, or Life Force, bringing physical strength and energy, stamina, focus, and determination.
Its steady frequency calms the emotional body to create lasting, stable energy for improving health or overcoming illness, setting goals and following through to completion, facing unpleasant tasks, and having the courage to rectify wrongs.
Please be aware that the 
colour, shape & size may differ slightly from the actual photo shown here.
Colours also may vary slightly due to the colour calibration of each individual monitor.
Any questions just ask, happy to help.