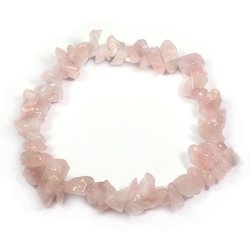 $7.00
$0.00
Rose Quartz Gemstone Chip Bracelet
Rose Quartz, a crystal of unconditional love, carries a soft, gentle energy of compassion and peace. It is a healing crystal of tenderness, nourishment, and comfort.
These soft pink gems speak directly to the Heart Chakra, dissolving emotional wounds, fears, and resentments. It circulates loving energy throughout the entire aura, helping us to heal from past wounds and move forward with courage.
Reawakening the heart to its own innate love, Rose Quartz provides a deep sense of personal fulfillment and contentment.
Please be aware that the 
colour, shape & size may differ slightly from the actual photo shown here.
Colours also may vary slightly due to the colour calibration of each individual monitor.
Any questions just ask, happy to help.