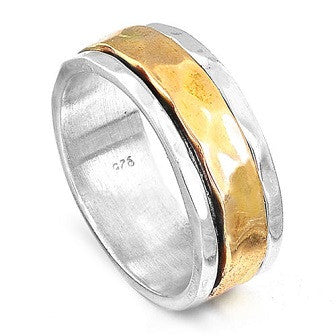 $64.99 AUD
$0.00 AUD
925 Sterling Silver Hammered Spinner Ring With Brass Band Size 7.5
The spinner ring is believed to come from ancient Tibetan meditation traditions and is called a "worry ring" because spinning the right is believed to have a calming effect on the mind and body.
Spinner rings are said to also help with anxiety and are meant to fiddle with a great substitute for biting fingernails, fiddling with other jewelry, or putting your hands in your pockets.
The spinner around the ring is said to bring the one who wears it good luck and a sense of peace and serenity of sterling silver 925.
This ring has one hammered brass spinner around the main ring made out of sterling silver 925.
Material:

 

925 Sterling Silver, Brass
Ring size:

 

7.5
Length/wide:

 

approx. 8 mm 
Please be aware that the colour, shape & size may differ slightly from the actual photo shown here.
Colours also may vary slightly due to the colour calibration of each individual monitor.
Any questions just ask, happy to help.
| United States & Canada | UK, Europe & Australia | CN/SG/JP | HK | Switzerland | Circumference(mm) |
| --- | --- | --- | --- | --- | --- |
| 4 | H | 7 | 9 | | 46.8 |
| 4.25 | 0.5H | | | 7.75 | 47.4 |
| 4.5 | I | 8 | 10 | | 48 |
| 4.75 | J | | | 9 | 48.7 |
| 5 | 0.5J | 9 | 11 | | 49.3 |
| 5.25 | K | | | 10 | 50 |
| 5.5 | 0.5K | 10 | 12 | | 50.6 |
| 5.75 | L | | | 11.75 | 51.2 |
| 6 | 0.5L | 11 | 13 | 12.75 | 51.9 |
| 6.25 | M | 12 | | | 52.5 |
| 6.5 | 0.5M | 13 | 14.5 | 14 | 53.1 |
| 6.75 | N | | | | 53.8 |
| 7 | 0.5N | 14 | 16 | 15.25 | 54.4 |
| 7.25 | O | | | | 55.1 |
| 7.5 | 0.5O | 15 | 17 | 16.5 | 55.7 |
| 7.75 | P | | | | 56.3 |
| 8 | 0.5P | 16 | | 17.75 | 57 |
| 8.25 | | | 18 | | 57.2 |
| 8.5 | 0.5Q | 17 | 19 | | 58.3 |
| 8.75 | R | | | 19 | 58.9 |
| 9 | 0.5R | 18 | 20.5 | | 59.5 |
| 9.25 | S | | | 20.25 | 60.2 |
| 9.5 | 0.5S | 19 | 22 | | 60.8 |
| 9.75 | T | | | 21.5 | 61.4 |
| 10 | 0.5T | 20 | 23 | | 62.1 |
| 10.25 | U | 21 | | | 62.7 |
| 10.5 | 0.5U | 22 | 24 | 22.75 | 63.4 |
| 10.75 | V | | | | 64 |
| 11 | 0.5V | 23 | 25 | | 64.6 |
| 11.25 | W | | | 25 | 65.3 |
| 11.5 | 0.5W | 24 | 26 | | 65.9 |
| 11.75 | X | | | | 66.6 |
| 12 | 0.4X | 25 | 27.75 | 27.5 | 67.2 |