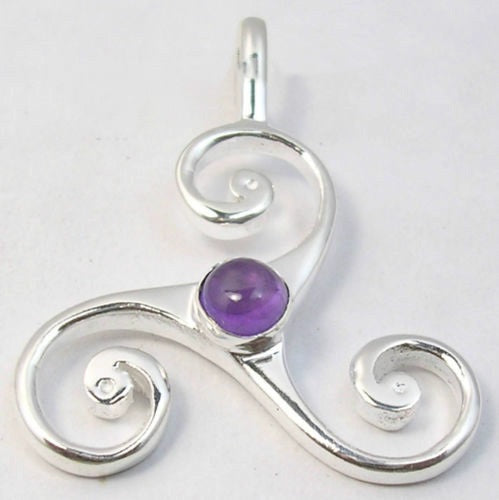 $32.99 AUD
$0.00 AUD
Amethyst Triquetra/Triskelion 925 Sterling Silver Pendant
The Triquetra/Triskelion is as ancient as it is sacred and is one of the oldest known symbols on this Earth.
The three spirals are said to represent motion and movement, and the symbolism behind the number three has many meanings and variations. Some of these include father-son-holy spirit, mind-body-soul, earth-cosmos-you, ascension-love-evolution, and past-present-future. While different, they all represent moving through cycles and creation.

The Triquetra/Triskelion is a key that unlocks the power of your own personal creation, which is deeply unique to you. It mixes your energy with the energy of nature, the cosmos, and the divine, and produces an experience specific to you, the wearer.
Metal: Genuine 925 Sterling Silver - (not plated)
Gemstones: Amethyst
Gemstone Size: 6 x 6 mm Round Faceted Gemstone
Pendant Length: 42 mm including Bail (1 1/2 inches)
Pendant Width: 31 mm (1 1/8 inches)
Weight: 6 g
Please be aware that the 
colour, shape & size may differ slightly from the actual photo shown here.
Colours also may vary slightly due to the colour calibration of each individual monitor.