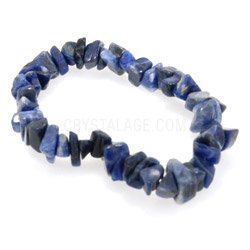 $9.99 AUD
$0.00 AUD
Sodalite Gemstone Chip Bracelet
Sodalite inspires insight, awakening, examination, and connection.
A stone of logic, Sodalite emits an easy, tranquil energy that clears the mind and elicits deep thought, enhancing our powers of analysis, intuition, observation, and creativity.
It strengthens self-discipline, efficiency and organization. 
Please be aware that the 
colour, shape & size may differ from the actual photo shown here.
Colours also may vary slightly due to the colour calibration of each individual monitor.
Any questions just ask, happy to help.