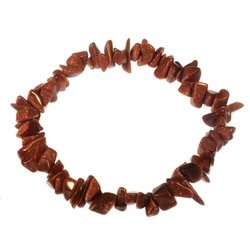 $9.99 AUD
$0.00 AUD
Red Goldstone Gemstone Chip Bracelet
Called the stone of ambition, goldstone is thought to assist in attaining goals.
Some consider goldstone to be a symbol of ingenuity, ambition, and drive. It believed to reduce tension, revitalize the wearer and encourage a positive attitude.
Red goldstone is said to attract health, wealth and abundance of all kinds. 
Please be aware that the 
colour, shape & size may differ slightly from the actual photo shown here.
Colours also may vary slightly due to the colour calibration of each individual monitor.
Any questions just ask, happy to help.